I just posted another #TeaserTuesday from
Mastering Her Role
, Book One in
The Dani Collins Erotic Romance Collection
. Read this
sexy excerpt on my website here
. WARNING: Not Safe For Work.
Here's as much as I thought was safe for Facebook:
Her head dipped and he felt little shivers chase over her skin again.
"I—" She waved modestly at the table. "This is a celebration. I've been the top agent twelve months running. I received a bonus. A cruise."
"Well that's wonderful isn't it?" He opened his hand on the softness of her upper arm. Women's skin was always soft, but Arianne's compelled him to pet and stroke unceasingly. If only she would let him, if only—but he was supposed to be listening. Giving her the admiration she rightly deserved. "I'm not surprised but I'm very proud. Well done, beautiful."
He touched his lips to her skin for the first time, a light press at her temple that made her breath stall. Heat surged through him.
"For two," she added after a moment of significant silence. She kept her chin tucked. "I leave in a week."
He used a gentle touch to tilt her face up to his. "Two?"
"It's a cruise for two. At first I thought I'd take a girlfriend, perhaps Ella from the office. But there would be politics and on the boat she'd be intent on cutting one of those sexual swathes you talked about. Essentially I'd be cruising alone. Then I considered trying something like that myself but aside from the fact I'm hopelessly ill-equipped, I'm built for relationships." She shrugged awkwardly. "It's just who I am. I'd rather invite a man to share the cruise with me. I even had someone in mind—"
"I beg your pardon?" His hand firmed involuntarily on her jaw.
"There is a man to whom I am attracted," she said, lashes lowered in uncertainty. "I would like to invite him on this cruise, but I can't. Not if I'm going to ruin everything by being some kind of sexual introvert."
"Who is he?" he demanded. He was jealous, he realized. Insane with it.
She pulled away and bent to blow out the candles. "Do I ask you the names of the women you pursue?"
There was only one.
Arianne
. She'd been in his thoughts for eleven months. Over a year, if he wanted to be honest, but he didn't want to be that honest. She might guess the rest and he dreaded that.
~ * ~
Given all the books I have out this summer, I've been posting lots of snippets and free reads of difference scenes. Here are some that I've posted lately:
I also wanted to remind you that purchase of the erotic romances and The Ultimate Seduction count as entries into
Dani's Masked Desires Contest
. You could win one of these awesome masks or an autographed copy of my August Harlequin Presents
The Ultimate Seduction
.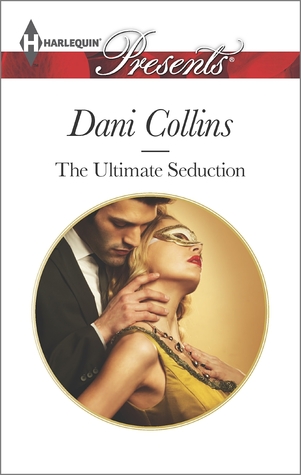 Enter to win
You'll always be included in a draw for a signed copy of my new release if you
join my newsletter
. I draw from my subscriber list right before the book comes out.
Have you seen the UK cover for
The Ultimate Seduction
? So sexy, right? Got that whole mask thing still going on...
I'll be giving away yet another copy of this book (N.American version) as part of a
Huge Giveaway
over on
Lisa Perry's Blog
. I'm giving away two books, actually. This one and
An Heir To Bind Them
, signed of course.
I'll have even more chances to win
The Ultimate Seduction
when I start my blog tour mid-July, so keep checking back for those opportunities.
Meanwhile, read the #Thursday13 from The Secret In Room 823 and watch for another one this week. If you like it, it's available for preorder in North America as part of
The Chatsfield Boxed Set Vol.2
.
In the UK, you can pick up
The Secret In Room 823
as a stand alone title, or as part of
The Chatsfield Boxed Set Vol.2
.
For quickest delivery on all my titles, buy from
Mills & Boon UK
site,
eHarlequin
and
Mills & Boon Aus
as they appear there soonest.
Prefer Amazon?
US
|
Canada
|
UK
|
India
|
Germany
|
Brazil
|
Spain
|
Italy
|
Japan
|
Australia
These fine retailers have all my books as well:
Nook
|
Kobo
|
ARe
|
BooksaMillion
|
ChaptersIndigo